St. John United Church Of Christ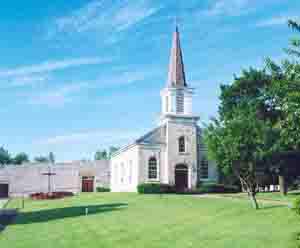 St. John United Church Of Christ
Contributed by Mary Ann Loth, Secretary
The St. John Story 1843-1993 (Compiled from the memories and written words of many of St. John's members, August, 1993)
In the early 1840s many immigrants came to South Germantown from their homes in the Rhine province of Hessen-Darmstadt, the Rhine Palatinate, and later from Pomerania and Wuertemberg. By 1843 a group of these settlers formed a congregation that accepted from Mr. [John] Gilbert the gift of a small wooded parcel of land upon which they erected a log church. We learn from Mrs. Fred Straub, who lives nearby, that before this building was completed, church services and confirmation classes were held under a basswood tree.
In these pioneering days, preachers traveled on horseback and the frequency of their services depended upon their route and the weather. Shelters had to be provided for the horses and wagons. An early entry in church expenses shows John Gilbert's fee for supplying feed for the minister's horse was increased from $2 to $7 per year.
We do not know the names of the earliest circuit-riding clergy; it is interesting to note their denominations varied almost as much as the color of their horse.
The original log church and burial ground was located approximately one-half mile west of our present location on Donges Bay Road; the cemetery is still owned by St. John and maintained by the Germantown Chapter of the VFW.
These were the days before Milwaukee was a city or Wisconsin, a state. The Oregon Trail was opened in 1843 and in London, Dickens wrote The Christmas Carol.
At this date it is impossible to determine who organized the congregation or who were charter members. Among the names found in our oldest records are those of families still in the church: Fraederich, Leicht, Leonhardt, Schaetzel.
On 26 August 1867, two years after the Civil War, the congregation approved the purchase of additional land to build a new church and parsonage. A controversy over the site led to the withdrawal of some members and organization of [St. Paul Gemeinde Congregation in Menomonee Falls in 1868] now known as St. Paul's United Church of Christ. Another fraction withdrew and organized a Lutheran church in Mequon, [Dreieiningkeits Gemeinde]. Despite these difficulties, on 18 December 1867 the members of St. John purchased three acres of land from Adam and Maria Stein for $150.00. On 5 February 1868, fifty-one members pledged the sum of $3,785 to build a new church.
The congregation wisely decided the architects should plan their House of Worship. After rejecting a $5.00 plan, they accepted a plan costing $30.00 submitted by Myath and Koch. Their good judgment in selecting a building with graceful and well proportioned lines has been proven. Today, St. John's building is recognized as an outstanding example of the architecture of that era and architect Koch went on to fame as the designer of the Milwaukee City Hall.
A member of the congregation, Mr. Peter Brown did the fine stone masonry work on the building. The stone was cut and quarried on land of members Conrad Dexheimer, Henry Leonhardt and Valentine Schaetzel who received the sums of $18.75, $68.75 and $65.00 respectively. All three men then donated this money in addition to their pledge, this at a time when $1.00 was paid for a full day's work digging sand for the church construction. Many other members gave considerable sums above what they had originally pledged.
The chiseled stone name plate high above the rounded window over the front door reads "Das Evangel Kirche" with three Bible selections noted on the corners. This is how the founders defined the mission of St. John as a reminder to themselves and to those who would come after them.
Deuteronomy 26:2
You shall take some of the first of all the fruit of the ground which you harvest from your land that the Lord your God gives you and you shall put it in a basket and you shall go to the place which the Lord your God will choose to make his name to dwell there.
Psalm 87:3
Glorious things are spoken of you, O city of God.
Luke 11:28
But He said, "Blessed are those who hear the word of God and keep it!"
Upon completion of the church, free will pledges were signed in 1869 to build a parsonage. This project was completed in 1872. Both buildings were erected and paid for without outside assistance and without assuming a debt. A reed organ was purchased in 1876. The steeple seemed empty without bells, so Jacob Saaler and Jacob Straub collected $300.00 for the purchase of a 900 pound bell. On the 50th anniversary [1892] of St. John, the congregation was surprised when John Juedes donated a large bell weighting 1,675 pounds. Both bells are still in use and mark the opening and closing of services.
Members of the Congregation from 1851 to 1869 were: Philip Bach, Joseph Cornelius, Mathias Dhielen, Andreas Fehl, Georg Grille, Heinrich Haushalter, Jacob Herbold, Philip Herbold, John Hubenthal, Adam Jacobus, Vespasianus Leicht, Jacob Klumb, Wilhelm Knapf, Balthasar Knipppenberg, Andreas Kreutzer, Abraham Laisy, John Pirkner, David Reinemann, Jacob Ruppel, Jacob Schaetzel, Adam Schnell, Jacob Schunk, Detter Schweier, Jacob Sigmund, Christin Stauss, Jacob Stauss, Jacob Stein, Jacob Steinmetz, Christian Stillwagen, Jacob Strassburger, Wilhelm Straub, Phillip Weber, Karl Wenzel, Jacob Zaun.
In the past 150 years, thirty-three ministers have served St. John's Congregation beginning with the circuit riding preachers on horseback. These men were of various denominations, sometimes Lutheran, Reformed or from the Kirchenverein des Westens. In 1864 a Presbyterian supply minister named Reverend Kudebe took a number of St. John's members and organized the Presbyterian church at West Granville. The incensed members of the congregation promptly passed a resolution against calling any Presbyterian supply minister to serve at St. John in the future.
In 1867 our church was associated with Kirchen Verein des Westens, later a part of the German Evangelical Synod of North America and still later the Evangelical and Reformed Church of America. On 25 June 1957 the historic merger of the Evangelical and Reformed Church with the Congregation Christian Church formed the United Church of Christ. As a result of this merger, the congregation voted to change the name to St. John United Church of Christ.
Church services were conducted in German until 1935 when the members voted to institute some English services. However, it was the mid 1940s before the complete transition from German to English was accomplished. In 1935 the Congregation introduced individual membership, giving the women the right to vote. The old German custom of separate seating of men and women during the services was discontinued. In 1966 the congregation voted to establish two positions of Deaconess as members of the Church Council. Pew Communion was first practiced in 1961.
Any church in existence for 150 years has a history of good and lean years; St John is no exception. Herb Fraederich shared some of his memories of depression times and remembered some Sunday collections that totalled 35 cents. One minister was known to admonish his congregation with the words, "Do not drop all those Indians (pennies) in the plate! Let me hear the rustle of paper!"
Throughout the years the church and parsonage have been continually improved and modernized. The beautiful art glass windows were placed in 1919, one presented by the Sunday School, the other by the Women's guild then known as the Frauen Verein. Formed in 1909, the Guild has given thousands of dollars for the care and upkeep of the church property. In addition to participating freely in work projects, they sponsor most of the social activities of the church. The Guild meets monthly to strengthen their personal commitment to serving Christ in the church, the community and the world. Electric lights were installed in the church and parsonage in 1926. The Guild donated an electric organ in 1955 which is still in use, replacing the pump organ they purchased in 1911.
In May of 1931 the local artist, LeRoy Obermann, painted a large, much admired mural of Jesus ascending into heaven on the altar wall. Unfortunately, this could not be saved when the church was repainted in 1961. New altar furniture and a large wooden wall cross were installed, thanks to the handiwork of Craftsman Warren Schwartz.
In 1952 and '53 a major building project occurred when the congregation authorized borrowing $7,500.00 to excavate the church building and construct a basement. Volunteer help greatly reduced the cost of the remodeling. A new heating system was installed along with kitchen and lavatory facilities, new carpeting, and the chancel was rearranged. The new basement provided much needed space for Sunday School and the business and social activities of the congregation. It also provided for the easier production of St. John's famous ham dinners, an annual fund raiser of the Guild; formerly these were prepared and eaten in Kreutzer's Hall (now Etzel's). In April of 1960 a house adjoining the church property was purchased for $15,000.00 for use as a parsonage. The former parsonage was then used as a Christian Education Building. The size of the parking lot was doubled in 1961.
In 1943 a Centennial Celebration was held which included services featuring the President of the Evangelical and Reformed Church, Dr. Louis Goebel, and the President of the South Wisconsin Synod, Dr. William Schlinkmann. Letters of congratulation were received from President Franklin D. Roosevelt, Governor Walter Goodland and Senator Robert LaFollette. A Centennial Book written by Rev. Karl Merkel was published and a Memorial tree planted by the Sunday School.
The Reverend Milton K. Staskal accepted a call from our UCC in New London before we celebrated our 125th anniversary year. However, we were able to duly commemorate this historic event through the efforts of able and dedicated committees, one of which produced the "Red History Book." Former ministers who had served our congregation spoke at special monthly services, culminating with the visit of the Reverend Ben Herbster, National President of the UCC. Mr. Staskal graciously returned to us for this special double-service Sunday, and a special choir sang, directed by Mr. Victor Maves from Christ Church in Milwaukee.
St. John was then fortunate to have the services of the Reverend John Fischer from Minneapolis, who was attending the University of Wisconsin-Milwaukee while studying for advanced degrees in sociology. He was the first of our part-time ministers, and was followed by the Reverend Ralph Maschmeier of West Bend who was a working minister. These gentlemen served us well, teaching and confirming our young people, advising our Council and Sunday School teachers, and ministering to the immediate needs of our people.
In 1970 St. John was able to hire a part-time minister, the Reverend Gervas Meinzer. He was employed by the State Department of Health and Social Services as a regional juvenile delinquency prevention consultant; traveling throughout this area, he could be considered a modern version of the 1843 circuit-riding pastors. With Pastor Meinzer's work in the area of social concern, St. John found new challenges to become a vital force in the meeting of community needs. The Wee-Care Day Nursery operated a center in the church basement and Washington County Youth Bureau services occupied the Sunday School building one day a week as a branch office. With the help of a part-timer program coordinator, Miss Jan Doleschal, who later became an ordained UCC minister, and a group of dedicated lay people and congregational support, we were able to revitalize one of the two original choirs and provide challenging youth programming and leadership.
Late in 1980 the congregation realized that growth was essential for survival in the changing neighborhood of emerging subdivisions and new churches. It was necessary to have a full-time minister to guide and represent our presence in the community. A graduating Princeton divinity student, John Klein, was called. With his arrival, we spurted ahead in activities and services. The Sunday School curriculum was updated; the Sunshine singers, a talented group of youngsters under the direction of Ralph Bronner spread their cheer through the area; the community Group Home was adopted; the Food Pantry was staffed and the needs of the parish and neighbors were met.
The age and beauty of the building resulted in the designation of St. John as a Historical Landmark and this dedicatory service in 1982 also marked the 25th anniversary of the UCC. In 1984 the women's Guild celebrated their 75th anniversary. A logo was developed to illustrate the slogan 'St. John the Little Church with the Big Heart - Historically Rooted, Branching Towards the Future.'
As the membership increased significantly, plans were laid for an addition to the church and renovation of the existing structure. After a survey and application to UCC Homeland Ministries, it was determined that fund-raising together with grants from the Wisconsin and National Church Board would be ample. The architectural firm of Kubala-Washatko, Cedarburg, Wisconsin was selected and plans accepted in 1985, costing $450,000. Church services were held in Etzel's Hall across the road while the building was under construction. Dedicated members donated time, food, muscle and talent as pews were refurbished in Liecht's barn and the new addition was painted. The building was completed and dedication held on 22 June 1986.
The remodeled building now provides increased classroom and office space, accessible restrooms, on both floors, a larger fellowship hall and a modern kitchen, with easy access to Sanctuary and basement for the elderly and handicapped. There is a merging of the old and the new, an attempt to honor the past by preparing for the future. The exterior pays respect to the historical nature of the original building, which makes it clear that this present generation values and tremendous heritage given to us by our forefathers. The interior of the addition is designed to meet the modern educational needs of the growing minds of youth and adults alike. It attempts to be responsible in Christian stewardship by using twentieth century, energy efficient technology. Architects, Kubala-Washatko, received an award from the Wisconsin Society of Architects for their distinguished accomplishment in architecture for the design of the new addition.
In 1986 Pastor Klein left to resume studies for his doctorate and we were in the capable hands of Pastor Robert Galitz and wife Ramona. They contributed much to the smoothness of this transition year. Since 1 January 1988, the congregation has been enriched by the Reverend Gregory Young, his wife Grace, son Justin and daughter Grabrielle.
1988 was a very busy and interesting year. The old parsonage was sold and moved nearby where it was renovated by the new owners. A big accomplishment was the sewer hoop-up for the church and a newer parsonage.
In 1989 Pastor Greg and family purchased and moved into their own home. We had many fund-raising events to defray the cost of repairs such as the Lavender and Lace Banquet, our Annual Fall Arts and Crafts Fair, St. John Cookbook and Sweatshirt sales, Christmas Craft and Bake Sale. Throughout the year there was much fellowship through volleyball and baseball games, dart ball and pot luck dinners. Membership continued to grow.
1990 began our third Capital Funds Campaign. In February, an Ad Hoc Committee was formed to study the feasibility of two worship services at St. John. 1991 brought many events throughout the year. Brunches prepared by the Outreach Committee, Buttons and Bows Banquet, Box Social & Auction through the women's Guild, and the Annual Craft Fair were followed by the first October Pumpkin Fest which will also be an annual event. Two services began experimentally in September to serve a growing membership, but the members overwhelmingly chose to attend the service anchored by Sunday School and the second service was discontinued.
On 21 July 1991 St John lost a dear friend with the death of Pastor John Klein and a funeral service was held at St. John. By 1992 Church membership continued to rise, reaching 266, an increase of 34 in that year alone. Membership in 1980 was 160 so the improvement in the building and increased commitment to the community has been beneficial to all.
Throughout the years the physical needs of the church have been met through the loyal support of church members. As recently as 1992 the serious need for roof and steeple repairs was addressed by generous donations from numerous supporters as well as a large individual anonymous donation.
Music continues to be a important part of the life of St. John. The congregation has always sung with vigor and feeling, and has been anchored through the years by our organists and choirs. Gertrude Fraederich's 40 year tenure as organist is a splendid example of love of music and love of St. John. Karen Roskopf, who began playing for some church events while still in her teens, continues to inspire us with her talent.
A succession of pastors' wives and choir directors have turned countless hours of practice into inspired performances. Gertrude, Dorothy Licht, Louise Mueller, Jan Doleschal, Dave Richard, Rene' Sardina and Ron Vander Meer have each brought to the choir different perspectives, new challenges and added dimensions to our musical heritage. Strains of trumpet, flute and violin have mingled with the youthful voices of the early Youth Choir and, more recently, the Sunshine Singers. A memorial gift of a piano for the sanctuary in honor of Charles Maederer, and Beulah and Cheryl Maederer's gift of an organ for the fellowship hall has been greatly appreciated. In today's comfortable facility, our choir can practice in a rehearsal area and organizations can enjoy organ accompaniment in the fellowship hall.
St. John's altar has been the setting for the ordination by "laying on of hands" of four people called to the ministry. In 1920-21 two sons of the Reverend Valentine Crusius, Emmanuel and Helmut were ordained. It is interesting to note that their sisters, Marie and Irene, became deaconesses, and sister Hilda married Reverend Karl Merkel. Together they served St. John for ten years, she as organist, choir director and teacher. The other two brothers, Paul and Carl, also were ministers; Carl writing the music for three hymns for the Elmhurst hymnal edited by his brother Paul in 1921. John Klein, a son of the Reverend Hilbert Klein, and divinity graduate from Princeton, was ordained in 1981. Susan Toth Tyrrel, a daughter of St. John and graduate of Andover Newton, Boston was ordained in 1984.
The 1993 Fourth Capital Funds Drive is now part of the churches history. Pledges of support were received that will enable the church to meet its building fund obligation for the next three years. The building addition not only provides the space necessary to promote the work of the Church, but, perhaps just as importantly, requires that once every three years members come together as a congregation to rededicate our commitment to complete that which was started nearly ten years ago. As we go through this process we grow in our understanding and love for each other and as we do, we become stronger in our service to our Lord Jesus Christ.
The celebrations planned for this the centennial year have been varied and exciting, starting with the making of an all-member patchwork quilt. Not to be outdone, the Sunday School children and their teachers created a quilt hanging in the Nursery. Both quilts were dedicated on July 18.
The Guild's April program, "Hats Off To Women", an historical look at women and their head gear included friends and neighbors and was as great success. June's Old Fashion Sunday's opening worship service was remarkable with many of the congregation in costume and seated in a gender-segregated manner. The Lord's Prayer and Scriptures in German were provided by Viola Leonhardt and Harold Schaetzel; special music was the gift of Mark Bronner, Liz Beebe, Jamie and Matthew Poletz. After a food auction at noon, the box lunches were eaten outside, picnic style, followed by an afternoon of fun and games. A pig roast provided the evening meal, producing energy for the square dancing that followed. The happy day ended with a campfire vesper service which gave everyone an opportunity to reflect on St. John's rich heritage. Bob Lehmann presented the Historical Committee with a forty minute video recounting the day's many activities.
St. John members focused their community service efforts during the month of August to aid food disaster relief through contributions and prayers.
Former Pastors, members, and confirmands are invited to Reunion Sunday which will be held on 19 September for a re-dedicatory service and fellowship. The Reverend Frederick Trost, Wisconsin Conference Pastor, presenting parish members a challenge for the future of St. John.
One hundred and fifty years of St. John's mission in the community might best be summed up in the words of 1991 confirmand Eric Bronner:
"The experiences that I have been a part of at St. John are ones that will last me a lifetime. But more important than the memories I have are the people that I have shared these memories with. I don't have any relatives that live nearby but here at St. John I found most of all, family. I think that is why it is so easy for new members to not only feel comfortable here, but to get involved. The attitude of St. John is captured best by the slogan, "Here we have no strangers, only friends we haven't met."
Our family at St. John has an abundance of resources that not many family has. We have doctors, teachers, businessmen, farmers, and plenty of generous, down-to-earth people. It is our duty as a family to share these resources not only with each other, but also with our community and those in need. In giving money to this church, you are giving to people who care about the world around them. By giving up time to teach our young members, you are giving to a positive experience that they will cherish for the rest of their lives. My St. John family has made that positive experience happen for me. Now it is time what we can make that experience happen for each and every member of our family, young and old alike."