Goldenthal/Goldendale Early Families
If you have pictures you would like to share, contact The Home Team. Their email address can be found below.
---

John and Mary (Friedrich) Gebhard; c: 1901
25th Wedding Anniversary
Section 19, NE
(shared by Linda (Gebhard) Schneimann)
---

Sebastian and Marie Ann (Rossbach) Knetzger Family; c: 1910

unknown, unknown, Mary (Knetzger) Boehler
Marie Ann and Sebastian
Section 17, W1/2SE and E1/2SW
(shared by J. Nennig; Independence, Iowa, USA)
---
Konrad Noegel and Anna Katherine Welker

Katherine, Margaret, George, Konrad
1887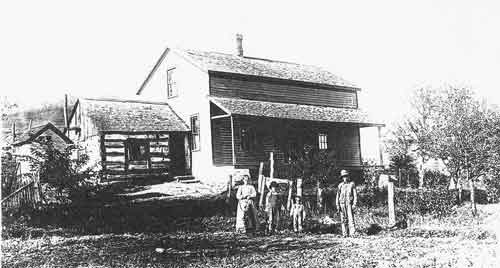 Family Homestead
(Town of Polk, Sections 34/35)
Katherine, Anthony, Andrew, Joseph, Mathew
1906

Mathew, George, Anthony, Margaret, Michael, Katherine, Andrew, Conrad Jr., Joseph
1930
(pictures shared by Mary Catarozzoli through Scott Noegel)
A biographical sketch of the Konrad Noegel family can be found here.
---

Wilhelm and Katharina (Herzog) Wetterau
Section 18, E1/2NE
(shared by Emma (Jung) Kinkead)
---