South Germantown Village Tour
Scene 7 of 8
See Scene 8 of 8 for additional South Germantown village tour information or Scene 6 of 8 to go back a page. To see the Germantown Picture Gallery, go here.
Broadway (Park) at Main
(On Main Street, heading North On Broadway To Fond du Lac Avenue)
Broadway: later renamed Park Avenue, sometimes referred to by the locals as Johns Street.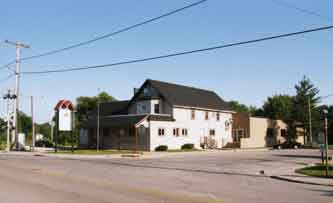 Main and Broadway, View North
Dance Hall/Saloon: Located on NW corner; A.L. Strack, Strack Saloon and Dance Hall; as remembered by Fred Mehre Jr: Billy and Viola Smiths' tavern, they played donkey football there. It was sold to Ed Burr and run under the name Steuben Club. He had "a back room" where you had to go through a secret door to a passageway to a small building which was west of the actual building and in there were slot machines and other gambling stuff. Later he built the bowling alleys. Later it became Reuter's and later Town Bowl; sometime later a dining room was added. Picture on the right taken in 1999.
Germantown Pickle Company: west side, north of the saloon. Managed by Frank Schwalbach. After the pickle factory buildings were removed in the early 1940s, this area was used as the temporary winter skating rink. Later the skating rink was located in Firemans Park, west of the Boy Scout cabin almost directly across from Gilbet and Gladys Arnold residence. The area which was the pickle factory became the bowling alley extension and the Town Bowl apartments

Howard and Evelyn Reingruber Home

Reingruber Residence: east side; Howard and Evelyn (Steffen) Reingruber. Pictures of Howard and Evelyn can be seen here.

Julius and Iola Stuettgen Home

Stuettgen Residence: east side, north of Reingruber; August and Margaret (Husting) Zander with children Roman, William, and Gertrude; 1940s, Julius and Iola Stuettgen with son Gerald; second story added in the 1980s; remains in possession of Gerald in 2009. August and Margaret are buried in St. Boniface Cemetery, Goldendale.

Allen and Cora Schulteis Home

Restored School House: east side, north of Zander; early 1940s, Fred and Edith (Campbell) Mehre; In the mid 1940s, Allen and Cora (Baertlein) Schulteis purchased the home from Herbert Walterlin and lived there for some 45 years; children Richard and Elise. This was the school building moved from its location on Pleasant Hill Avenue and Freistadt Road with a second story and front porch added. Allen and Cora are buried in St. Boniface Cemetery, Goldendale. Pictures of Allen and Cora can be seen here.

Clarence and Hilda Strack Home

Radtke Residence: west side, north of pickle factory (later Town Bowl Apartments); down stairs Grandma Armela Radtke and upstairs her son Arnold and Mrs. Radke with children Arlene, Dennis and Kenneth; later 1930s Fred and Genevieve Mehre; 1940s Clarence and Hilda Strack with children Kenneth, Lois, and Eunice.

Adolph and Beulah Strack Home

Adolph Strack Residence: east side, north of Schulteis; Adolph and Beulah (Lied) Strack and daughter Dallas. A picture of Beulah can be seen here. A biographical sketch of the Strack family can be found here.

Louis Schnenninger Home (spelling)

Schenninger Residence: east side, north of Adolph Strack; Louis Schenninger Home [spelling]

John and Rose Schaetzel Home



John Schaetzel Residence: west side, north of Radtke; downstairs John and Rose (Haushalter) Schaetzel with children Allegra, Lavern, and Laurinda; upstairs Clarence and Allegra Schram and daughter Claire/Ellen.

Herbert and Rose Walterlin Home

John Walterlin Residence: east side, north of Schenger; Herbert and Rose (Greulich) Walterlin with children Winifred and John; later John and Marlene (Lofy) Walterlin with children Patrice, Jane, and Diane. A biographical sketch of the Walterlin family can be found here. Herbert and Rose are buried at Holy Cross Cemetery in Milwaukee and John is buried at St. Mary Cemetery in Menomonee Falls.

John and Mary Schwalbach Home


John Schwalbach Residence: west side, north of John Schaetzel; John and Mary Schwalbach; daughter Caroline, later Sylvan and Francese Baudhuin.




Laverne and Lillian Schaetzel Home


Laverne Schaetzel Residence: east side, north of Walterlin, 1940s; Lavern and Lillian (Thate) Schaetzel and daughters Elaine and Jeanette, later George Schlaefer, later Dick and Anne Schlie.

Alvin Schlaefer Home

Schlaefer Residence: west side, north of Schwalbach; Jason Zann, later Alvin and Mrs. Schlaefer and children Grace, George, and Peter.

Lawrence and Allegra (Schaetzel) Arnold Home

Arnold Home: west side, north of Schlaefer; Lawrence and Allegra (Schaetzel) Arnold, later John Wilke, later Poremba.
Miscellaneous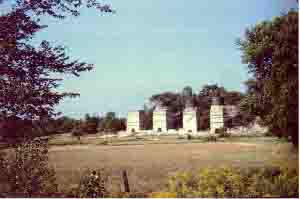 West Lime Kilns
Germantown Lime Company: located north of the bank and west of Park Avenue; the swimming hole was just north of this (you are looking north from Main Street by the Duerrwaechter business complex).
(business locations gleaned from a booklet written by Genevieve Mehre titled Main Street South Germantown published by the Germantown Historical Society. Some of the pictures by Ed Mueller courtesy of the Washington County Historical Society. Residences as remembered in 1940s and 50s by Daniel Sennott, Fred Mehre Jr., Earl Habermacher, and Donald Schulteis.)
In the year 1930, looking at the makeup of the Village using the 1930 census as the portal, the 300 acres supported 72 residence buildings containing 76 families and 256 individuals. Many families offered their homes to boarders. The populous could be classified as well established as few infant and young children were present and teenagers were not that evident either. On the other hand, the over 40 group was well established.
Businesses One By One
It would seem that the usual store and blacksmith shop were the first two business to resurrect their heads. A brewery and saloon were soon to follow. The brewery could have been first. The two largest business in the early times were devoted to lime making. Those who drive through the area today will never know they existed. Driving north on Highway 145 (Fond du Lac Avenue) past main street you come to the top of an incline about 150 feet up the road. At this point on your left and right sides was a quarry being excavated by the Cream City Lime Company. Through the middle if it ran the road. The depth of the quarry would seem to have been ten foot on the north side to twenty-five foot on the south side. In the 1940s it was full of water and fishing was possible; bullheads on the south side (Gehl's) and pan fish on the north side (Walterlin).
At some point a tunnel was positioned under Fond du Lac Road. With the tunnel bridge in place, when traveling north the kilns would be located on your left (southwest) where the dairy building now stands while the limestone was being excavated on your right, the northeast side. To move the rock from the northeast to the kilns, this could not be done on the surface as it would be a bit difficult and dangerous with all the vehicle traffic, so therefore the tunnel came into being. It was positioned at the center of the quarry. Through this tunnel on a rail line was moved the quarried stone. In the early 1950s the tunnel could still be seen through a small hole on its top on the east side of the road. Would suspect the inner cavity is there today if one digs down a bit.
The second kilns were located west of present day Park Avenue about 3/4 of the way -south to north - Main Street to Fond du Lac. This quarry was deeper and was used by some as the local swimming hole. The area was also great for sleigh riding in the winter with short steep grades although the route was a bit precarious due to 4 foot drop off on the right side. The kilns were identified as owned by the Germantown Lime Company, and Nass Brother's Western Lime and Cement Company.
Fireman's Park
In 1944 the Germantown Volunteer Fire Company purchased twenty-five acres of land from the John and Anna (Doering) Schwalbach estate for $3,700. At that time, Broadway, now known as Park Avenue, ran from Main Street to Fond du Lac Avenue. It was extended north to Freistadt and some time later had its name changed to Park Avenue. The land to the west of this road was divided into lots and sold to the general public. Initially a road was planned to run east-west through the center of the property with the name Rockton Avenue, although the idea was later dropped. Ball diamonds were located in the south portion, about 1/3, with the center 1/3 planted with trees and beds. The north 1/3 remained undeveloped. Centered on the property on the west side, a half circle road was positioned. Play ground equipment was added along with a Boy Scout Cabin, a tennis curt, and a wooden utility building referred to as the "hamburger stand." As the north half of this land did not reside in the Village, it was shortly thereafter annexed. A new and larger fire house was built in 1956 and enlarged in 1973. The firehouse was positioned on the east side of Park Avenue a little south of halfway between the half circular road entrances.
See Scene 8 of 8 for additional South Germantown village tour information or Scene 6 of 8 to go back a page. To see the Germantown Picture Gallery, go here.